Matthew Vella the Creative Drummer
Matthew is a drummer and drum teacher currently living in Malta. He teaches drums and percussion at The Box, in Malta.  The school is very well regarded for its teaching methods and workshops. Students can sit on exams to receive formal qualifications in music theory and technique.
He is currently in two bands and recording artists Superfecta and The Incident. Superfecta likes to break convention by being more experimental with heavy metal, classic rock, grunge and a few surprises. He also has played drums with Until Rain.
The Incident is a group of musicians from various countries and progressive rock mixed with heavier styles. Until Rain is an alternative/prog metal band from Thessaloniki, Greece with 5 albums under their belt since 2009.
What made you choose the drums as an instrument?
I've always had an inclination towards drums, I'm not sure really but being behind the kit feels like a comfortable safe place for me. I always wanted to take up drumming.
When did you take up drumming and what training did you have?
My practice/training went through phases I started at the age of 17 so I was not really very young, and I would drive everyone mad as I was completely addicted to the kit, I used to do a few lessons here and there and had a student ska band as well but practice was very unstructured and random, but lots of it. Then around the age of 19 I had met a certain tutor, Daniel Cauchi, who had just finished studying at a conservatoire, and he directed me in the right direction gave me structure and discipline that I needed to progress. I would then decide to take up drumming seriously and had created my own practice timetable which I would follow religiously every morning from 8:30 – 13:00. Started teaching with Daniel to save money to go do my Degree in the UK.
I played in the London Beefeaters Drumline which was a great training opportunity. It also proves you don't need to start off with a whole drum kit. Just one drum will do.
LCCM Beefeaters Drumline at The London Drum Show 2015
Was there a turning point when you decided to become a professional drummer?
I drifted into it more or less. I wasn't sure I could make a living from being a drummer. But I am doing that and its a good living.
My dad was into was into rock. In Malta it is very religious and Christian, so heavy metal was a way of rebelling in an acceptable way.
I'd been experimenting with different styles, Jazz, progressive rock and getting inspiration from them all but I liked the energy in rock. This no limits or boundaries, you can explore more elements and be very creative. The drums are a creative instrument that is very much in the moment. Its not as repetitious as people might think.
Were there any obstacles did you have to overcome?
Well there was general all round resistance (which is understandable) from everywhere when I decided I would attempt to do drumming professionally. It came from my parents obviously. The unconventional living of travelling was a part of it. It also came from friends they didn't believe I could make a living from it and didn't see it as a career. It wasn't seen as a stable job.
Everything was focussed on kids and a tight knit family which is very important.
I think the most difficult thing was actually taking the plunge, leaving my maths and physics degree to pursue drumming.
The Incident – East (live in Naousa)
The Incident – Maggot Brain (in the studio)
In some ways now it is higher job stability. Musicians are also self employed business people and able to work flexibly and internationally. Its not like working for a local manufacturer and when that closes you are out of work?
Agree. It does feel that way to me now. Plus I teach and it brings the stability that is missing from being a touring musician. Even if I could travel again I would still want to teach and have students. There is more focus and structure to my life in having a schedule.
That's an interesting point about the diversity and options you have.
It also makes me think in a different and yet still creative way. I have to break things down a lot more and think of the simplest things of how and why it works. It is very focussed and listening and giving very specific feedback. While I am teaching I am thinking also of ideas for myself. It helps me in understanding more about myself and other drummers, who I admire about why it works.
UNTIL RAIN – "Qualia" (Official Live In Studio)
You have been playing in some really heavy metal bands, how would you describe your playing style?
Well I've performed in most musical situations from Drum-line and the orchestra to Full blown Metal gigs. My comfort zone is the progressive rock/progressive metal area.  Generally speaking, hard hitting but very dynamic with lots of tiny complimenting details.
When I think of drums I always thing of the great tracks where the drums made the track. I was curious to talk to Matthew on how pushes the limits on drums.
Metalica was huge inspiration because the drums really stood out. You can feel the drums thump. In some tracks drums were nothing more than to keep a beat and added in as background.  In the 80's dance music, while it got a bad rep there were some stand out drum tracks. There were the synths of course but the drums also evolved in '80s dance music.
That was when I used to dance all night like a maniac. I remember those tracks… Adam and the Ants 'Ant Music', Simple Minds 'Don't You (Forget About Me)' and so many others. The beat was everything.
The Fleetwood Mac album, Rumours was a great example of drums could make the music. The drums punched you in the face. The snares were also great. These tracks came alive because of the drums. There is is the possibility and the transformative powers to make what would be an ordinary piece of music amazing.
You cannot create that sound using using samples or a background drum track like a lot of hip hop.
Is it the energy of playing live and the act of it being physical that excites you?
This is it. Playing the drums is exciting. Its fun.
Listening to those examples I am surprised that drummers rarely get song writing credits for what they bring to the music. The impact can be huge and drums are highly creative. Do you ever feel that drums are not given enough credit?
In some songs yeah. In Metal and Heavy Rock it is a bit a different, we had the great drum solos of the 70's. Growing up listening to those it was definitely an inspiration for me. Playing drums is much more physical and primal.
"Practice but do not over practice. You need energy.

Matthew Vella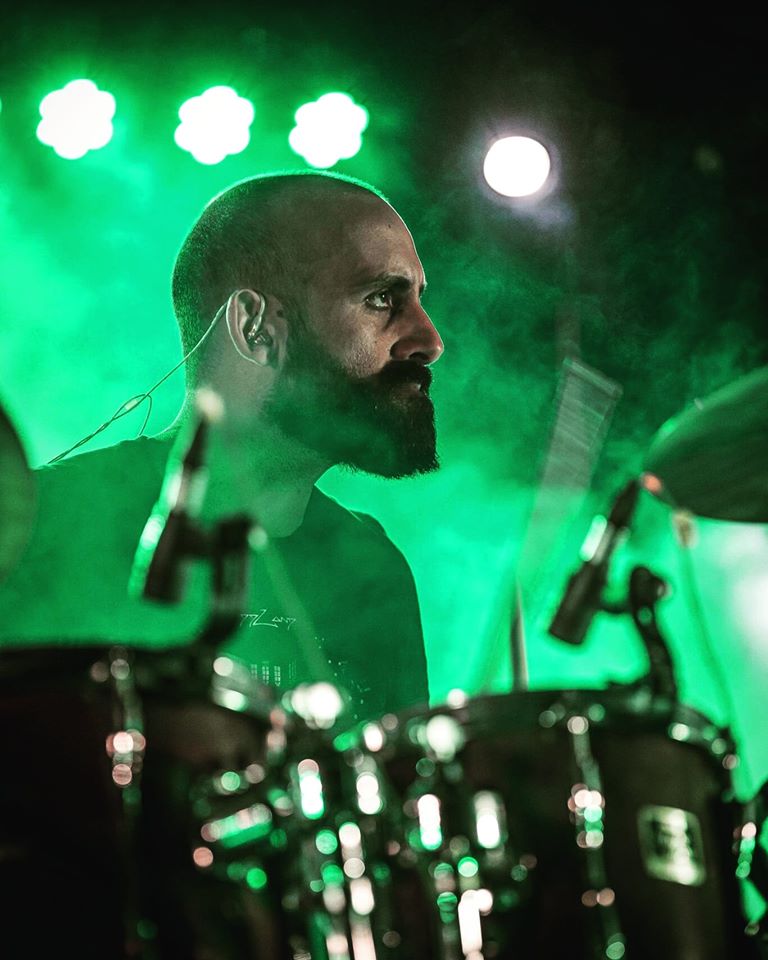 Primal, agree, probably the first 'tool' instrument of man.
Definitely. I like the feel of the sticks and its a full work out to take up drumming.
Have you a problem with blisters from drums?
No. Its not a problem for me because I use 'marching sticks' you hold them differently. Looser. The grip is different so I am able to play them harder.
I've been to Malta and it has a great music scene. I was there for the music festival. Greece where your band is based a lot of my friends there are very much into heavy metal and tell me it is very much imbedded in the culture.
Yes, its great. I miss being able to travel there now. Hopefully soon again.
What drummers inspire you that you would recommend students listening to?
To name a few, Gavin Harrison I think tops the list of influences who inspired me to take up drumming.
Also …

Simon Philips (Toto)

Steve Jansen (Japan)

Neil Peart (Rush)

Bill Bruford (Yes, Genesis, Bruford)

Jan Akkerman (Focus)
With lock down what are you working on now?
Well at the moment I'm currently writing 2 albums with 2 of my regular bands Superfecta and The Incident. Also in the processes of writing the drum parts for a new prog metal project (for me) called Gallows Tree. We've managed to shift the school online so lessons there are still going strong.
With lock down what are you working on now?
Practice but don't over practice. Don't not practice either. Well what i mean to say is don't practice in a way where you are conditioned by what you practice. If you want to take up drumming, then you need to practice.
Don't be afraid to experiment with different styles. There is no such thing as being a purest. Learn to play with Jammin.
Thank you Matthew. Been real 'Food for thought' about how the drums really set off the music and in some cases are the real star.