Jammin Player
BASS GUITAR
PRACTICE
like never before
Jammin Player
LEARNING BASS GUITAR
Plucking & Fretting
Practicing bass and being able to slow tracks right down will help you master plucking and fretting. Once you have the hang of it, speed the track up to play the full song.
Create loops
Is there one part of a song you struggle with? Or a section you want to master. You can create a loops to practice over and over until it's perfect.
Charts and chords
We have included the bass charts and chords of all songs. Making the learning experience even easier.
Save your settings
Spread out practice sessions by saving your settings so you can easily return at a later time.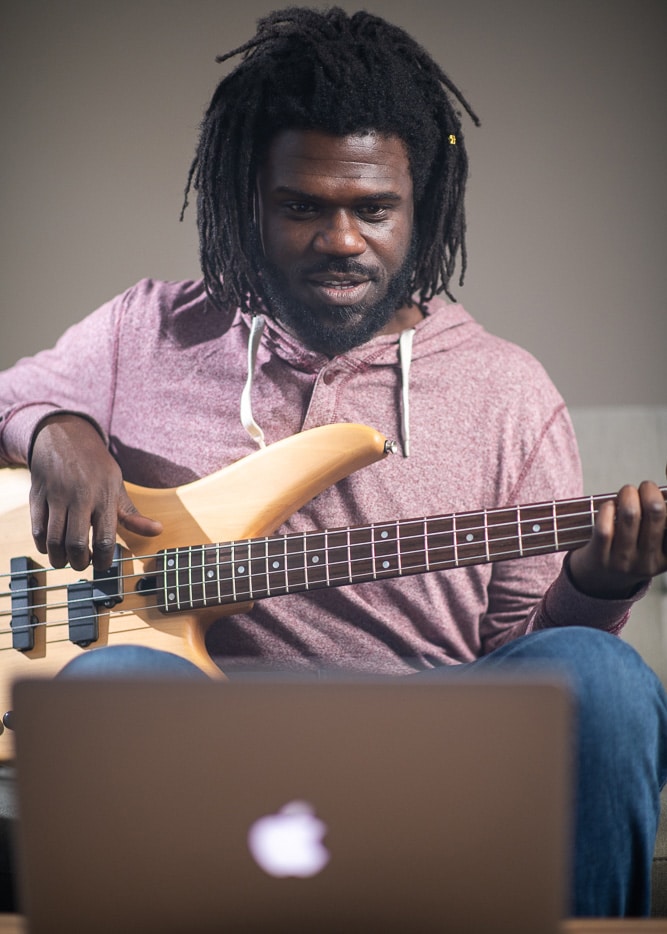 Jammin Player Bass Guitarists
BASS GUITARISTS YOU PLAY WITH
The bass guitar keeps the band on tempo and adds texture to the music. The bass guitar is an instrument that brings all the other instruments together to provide a rhythmic foundation. Arguably the most crucial element in a band.
Which is why we have taken it upon ourselves to not only bring you quality tracks to play along to in the Jammin Player, we have also brought in world class musicians so that you are always practicing with top professionals. Meet the Jammin Player bass guitarists:
Nixon is an expert Bass Player and accomplished musician and producer who has performed/recorded either in the recording studio, on television, or live with The Drifters, Reasons To Be Cheerful (the musical) band, Mariah Carey, Ronnie Laws, Angie Brown, The Honeyz, Maxee (Brownstone) Sam Moore (Sam & Dave), Ruby Turner, Jools Holland, Juliet Roberts, Billy Paul, ABC, Cleveland Watkiss, Emmett North Jnr, Clem Curtis & The Foundations and many more.
His main instrument is the six-string electric bass guitar. Styles include; funk, soul, rock, various dance genres, jazz, latin, reggae, blues, hip hop etc.
Henry Thomas is a musician who plays electric, fretless, double bass, guitar and piano based in London who has been active on the music scene since the early Eighties.
Whilst playing in student bands and attending all the union bar concerts he discovered a passion for Folk, Rock, Soul and Jazz creating the foundation which allowed him to begin playing in west-end shows, recording sessions and touring live with established artists and play with a band soon after leaving college.
Eventually this led to a music program on the BBC called Rockschool which he co-presented with Deirdre Cartwright on guitar and Geoff Nichols on drums about playing in a band.
ONE ACCOUNT. MULTIPLE INSTRUMENTS.
JAMMIN PLAYER
SIMPLE
ADJUSTABLE
INGENIOUS
The Jammin Player enables you to practice with band from the comfort of your home.
You can practice at your own pace, bringing in all the instruments for a complete sound, or soloing out just your instrument until you get it perfect.
LEARN MORE